Multecart eCommerce Digital Multivendor marketplace shopping Cart – CMS – eCommerce
by
james
in
Files , PHP Scripts
on September 19, 2018
Now store your files on a 3rd pary storage easily! MulteCart makes this possible!
TAX Profiles supported – Define different taxes for different states easily!
Full Ticketing System (Customer Support) Integrated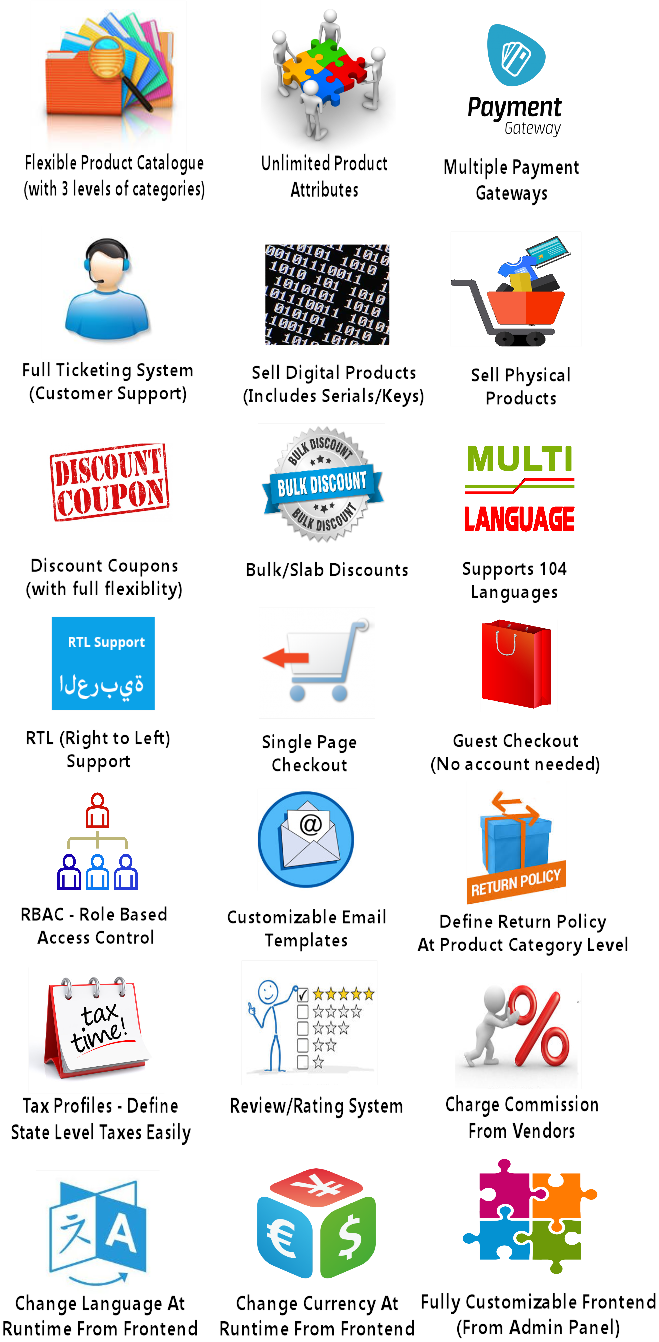 Watch Full Video Tutorial Here
Please check system demo and test it to your full satisfaction before purchase! Our demo is full unrestricted – what you see is what you get.
Please note that current version of MulteCart is tested to work properly with Apache server. If you are planning to use it with Nginx or some other server then please do that at your own risk as this version is currently untested with Nginx or other servers.
SYSTEM REQUIREMENTS:
PHP Version 7.0 or higher (PHP 5.x is not supported!)
MySQL 5.x
WebServer: Apache (untested for Nginx but should work with few tweaks – We won't support for any server related issues!).
Any Running FTP Server
CURL extension must be enabled along with below extensions on your PHP installation:
Please note that MulteCart Pro comes with full detailed installation manual included, however, if you wish to get our services for installation then that would be chargeable at $200 per installation!
System installation is a little bit complex (as it requires configuring FTP server and 3rd party storage server along with frontend and backend domains) and hence we suggest you to proceed ahead with purchase only if you are confident or are willing to get it installed by our expert team!
Please note that this item is under active development and we are committed to make this item as one of top CMS products available. Limited support will be provided through emails only (subject to our own discretion – dedicated support can also be purchased on need basis – please drop us an email if you wish to purchase our dedicated support) – we'll fix the reported system defects and will push them to next release. We have marked item as not supported because few people tend to misuse support policy. Thanks for understanding!
Looking for a complete multi-vendor marketplace solution for your ecommerce business? Look no-where else now!
Presenting Mult-e-Cart Pro : a true multivendor marketplace system with unlimited functionalities to help grow your business exponentially.
If you ever have dreamt of having your own online store like Amazon.com, Flipkart.com or similar then you have landed at the right destination.
It is all in one package for ecommerce marketplace with extremely powerful backend admin panel to manage inventory, discount coupons, bulk discounts, orders, products, invoicing and much more.
You don't need to pay monthly/annual recurring fee for cloud solutions – pay one time and setup your very own ecommerce marketplace and start earning big money!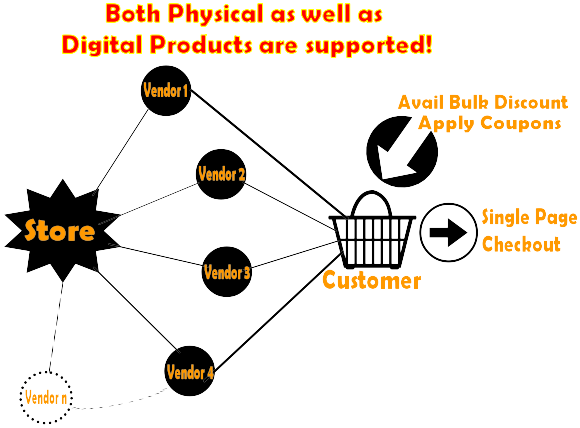 Please note that demo data will be reset every 1 hour
Demo
Frontend: http://pro.multecart.com
Backend: http://admin.multecart.com
Admin Login
Username: admin
Password: admin
Vendor 1 Login
Username: vendor1@multecart.com
Password: vendor
Vendor 2 Login
Username: vendor2@multecart.com
Password: vendor
Employee Login (Tickets Support)
Username: robert@multecart.com
Password: employee
This script is coded in PHP using Yii2 MVC framework that makes is extremely light weight and power packed when it comes to performance. It is designed by industry experienced veterans with tonnes of IT industry experience behind them that ensures that script is adapting to highest standards of design quality and is extremely customizable and scalable.
Why Yii2 Framework?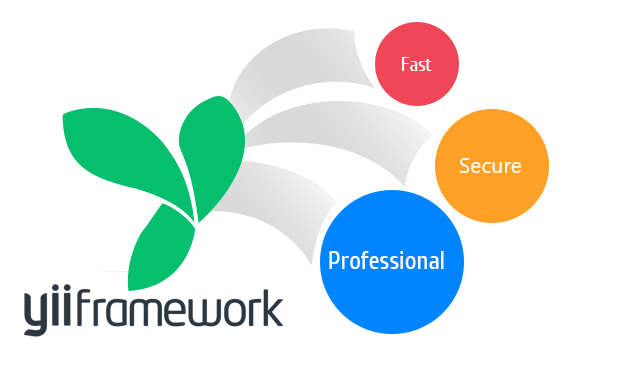 An ecommerce store is all about performance and security. If your store is slow then customers won't enjoy shopping and eventually you will lose out on your business. We compared all available major frameworks and figured out that Yii2 is the one on which we can bet upon as its most secure, fast and lightweight framework.
FEATURES
Fully featured and power packed backend Admin and Vendor Panel.
Full Ticketing System! Customers can submit tickets from frontend. Assign your employees to work on Tickets!
Modern, vibrant and eye pleasing frontend.
Fully responsive design.
Separate Admin and Vendor Dashboard
Multiple Currency Support: Change Currencies at runtime from frontend.
Multiple Language Support (104 languages with all language files included) – Change system language from frontend
RTL – Right To Left Support.
Fully Customizable Frontend Banners – customize easily from backend admin panel
Fully flexible timezone configuration.
Razorpay, BitPay, PayPal and Stripe payment gateway integration in most secured manner – process automatic refunds.
Full RBAC (Role Based Access Control) implementation.
Site Level Discount Management with full flexible rules.
Site and Vendor Level Discount Coupons Management with full flexible rules.
Bulk Discounts (Slab discounts) option to vendors.
Automatic Email Notifications.
Customizable email templates.
Fully flexible product catalogue with 3 levels of categories.
Unlimited product attributes – to define product features.
Single Page Checkout – both guest and registered users – in most simplest way.
User and Vendor Review system.
Powerful site level search.
Vendor commission calculation.
Vendor and customer invoice management.
Full order management.
Tax Management – Define Variable Taxes for Different States.
And lot more…
Frontend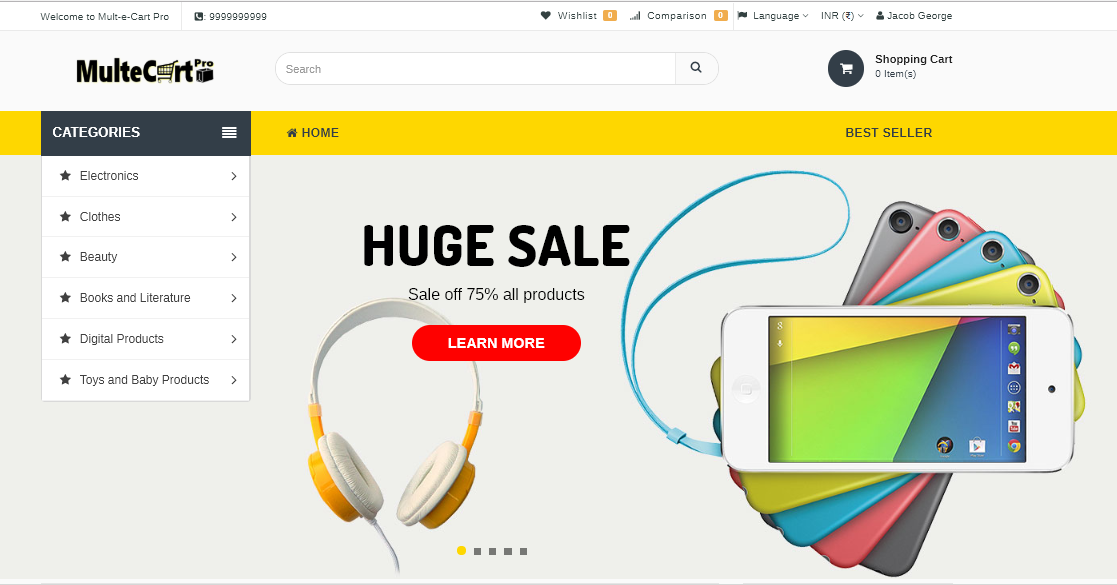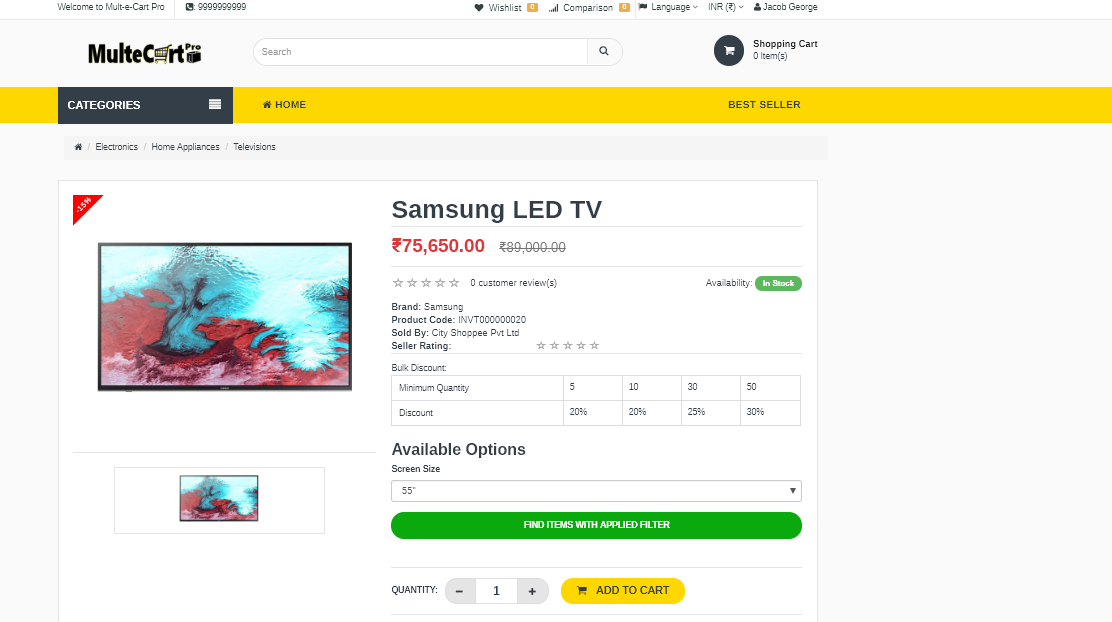 Backend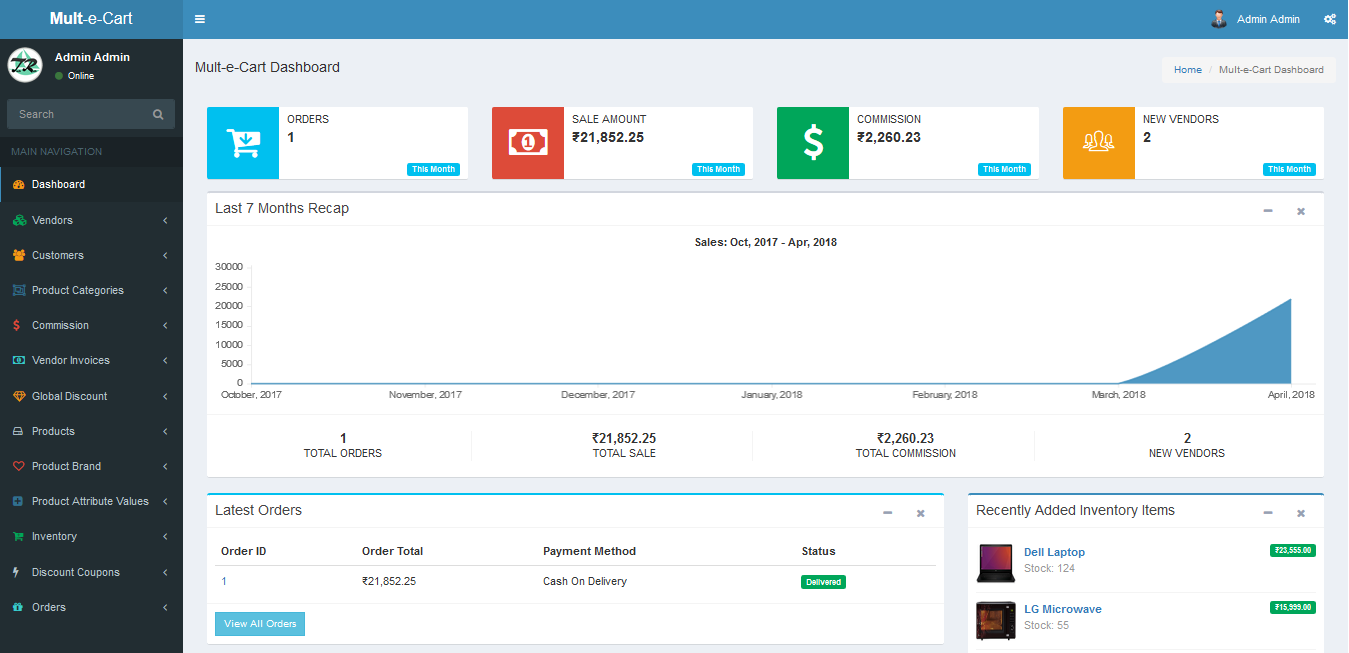 Changelog
18-Sep-2018
– v4.0 released – Major release
– Frontend Theme Completely changed with a more vibrant, colorful and advanced theme.
– Razorpay payment Gateway added
– Tax profiles can be added for different states
– Files can be configured to store on 3rd party storage
– Frontend banners are now customizable from admin panel
– Add to Wishlist feature added
– Add to comparelist feature added
– Change system language from frontend
– Change system currency from frontend
– Add Testimonials
– Product Brands Slider
– New contact us page
– Other bug fixes
14-Jul-2018
– v3.1 released – Pages for Footer Links added. Bug fixes.
12-Jun-2018
– v3.0 released – Performance Improvement and Bug Fixes.
18-May-2018
– Sort/Filter Functionality Added – Now Search Results can be sorted by name/price and multiple filters can be applied (categories, product types, vendor etc).
15-May-2018
– Critical Defect Fix – System was not responding to language change
14-May-2018
– Full Ticketing System Support
12-May-2018
-Vendor Registration Page Added to Frontend
10-May-2018
-Bitcoin Payment Gateway added (BitPay)
07-May-2018
-Digital records now supports Serial/Codes/License Keys
02-May-2018
-Digital Records Support Added
29-Apr-2018
-Initial Release