Advanced PHP Stocks Search & Filtering Application | Stock Screener
by
james
in
Files , PHP Scripts
on September 21, 2018
Bout Stock Screener
Stock Screener is a web application (written in JavaScript / PHP), which allows users to quickly and easily find companies that meet certain financial criteria. Using Stock Screener you can identify:
Large-cap or small-cap stocks
Daily gainers and losers
Companies, which pay biggest dividends
The most and less traded stocks by volume
Stock Screener features
Multiple stock exchanges
Sorting & filtering by various financial metrics
Stock chart and company details such as description, address, website, industry, sector, number of employees (displayed on click)
Light and dark color themes
Auto data refresh feature
Responsive (supports mobiles and tablets)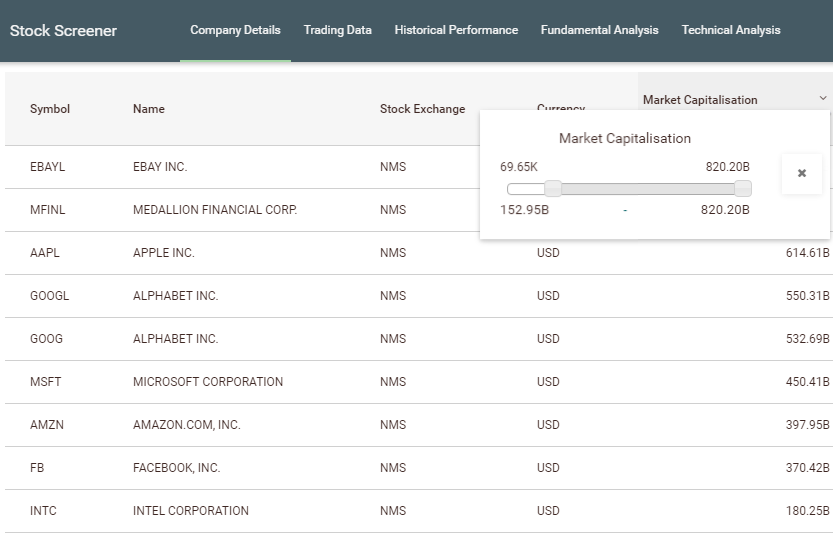 Supported stock exchanges
NASDAQ
NYSE
AMEX
Toronto Stock Exchange
LSE (London Stock Exchange)
ASX (Australian Stock Exchange)
XETRA
Frankfurt Stock Exchange
Amsterdam Stock Exchange
OMX Stockholm
OMX Helsinki
Oslo Stock Exchange
SIX (Swiss Stock Exchange)
BOVESPA
SGX (Singapore Stock Exchange)
HSE (Hong-Kong Stock Exchange)
Bursa Malaysia
Stock Screener can be extended to support more exchanges.
Warning: This is NOT a WordPress plugin, but it can be installed on a WordPress based website in a sub-folder and then loaded through an iframe (additional FREE plugin will be required to load a page through an iframe: https://wordpress.org/plugins/search/iframe/ ).
System requirements
PHP 5.4.x or above
cURL enabled
[PHP setting] short_open_tag = on
What license is required?
The Regular license entitles you to use the product on one website / domain only. If you want to use it on multiple websites / domains you have to purchase several Regular licenses (1 website = 1 license).
Installation
Unzip the package contents and copy all files to your web server via FTP or control management panel (cPanel, Plesk etc).